Bratislava and Vienna - the two capitals now even closer
0 Comments
Posted by Jakub November 13, 2016 Leave a comment
CORRECTED June 18, 2008 - Bratislava and Vienna are not the closes capitals in the world - Rome and the Vatican are closer, as well as Kinshasa and Brazzaville, in the Democratic Republic of Congo and the Republic of Congo, respectively
Bratislava, January 11, 2008 (BratislavaGuide.com) - Bratislava and Vienna are among the closest capitals in the world - a mere 64 km (40 miles) apart connected by Danube river, roads and train.
But near the end of 2007 a new highway and abolition of borders brought these two cities, capitals of Slovakia and Austria, even closer.
In mid-November 2007 Austria highway management company Asfinag completed the long delayed 22 km highway section Kittsee connecting the border with Slovakia to the Ostautobahn A4 at Parndorf leading to Vienna.
For a mere month this put to full use an elaborate modern border crossing constructed in the 1990s. On December 21 the border crossing turned obsolete as Slovakia became a member of the Schengen zone, an elite club of EU member states with no border checks between them.
The trip from Bratislava to Vienna has thus been further reduced to about 40 minutes on the highway. Passengers crossing to use the Vienna Schwechat Airport or for other purposes do not have to schedule extra time for border-crossing delays. In earlier years the wait time at border crossings was usually a few minutes to a quarter of an hour but sometimes even an hour or more.
Both Slovakia and Austria require payment for use of highways in the form of highway stickers. Austrian stickers for passenger cars for 2011 cost |76.50| for a one-year pass, |23| for a two-month pass and |7.90| for a 10-day pass. Slovak stickers cost |50| for one-year, |14| for one-month and |7| for one-week.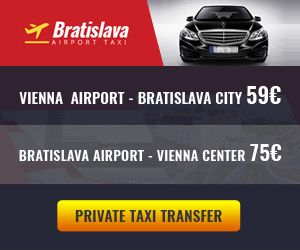 More for you