Info
Bratislava City Card
0 Comments
Posted by Jakub November 10, 2018 Leave a comment
Official Bratislava City Card is a product of The Bratislava Culture and Information Centre (BKIS). The card offers a reduced-fare/free one-hour walking tour of the Old Town, free travel on the city's public transport lines and a variety of discounts for museums, galleries and other venues.
Prices:
One-day Bratislava City Card - |10|
Two-day Bratislava City Card - |12|
Three-day Bratislava City Card - |15|
The price includes a free 48-page Bratislava tourist guide.
The cards are valid until midnight of the final validity date (i.e. a one-day card purchased on Monday morning expires at midnight on Monday).

Bratislava City Card sale points:
At Bratislava Cultural and Information Centre Tourist Points
1. Old Town - Klobucnicka by the Primatial Palace
2. Bratislava Milan Rastislav Stefanik Airport

Benefits and Discounts:
Bratislava City Card provides for free travel on public transport (excluding night buses). A free one-hour walking tour of the Old Town is provided in season (April-October), a 50% discount applies out of season. There are discounts of 5-20% at about 60 institutions and services including galleries, museums, boat transport, car rentals, restaurants, cafés, shopping and leisure time (ice-rings, swimming pools, ZOO, casinos). See more information about the discounts for card holders in this PDF (2 MB).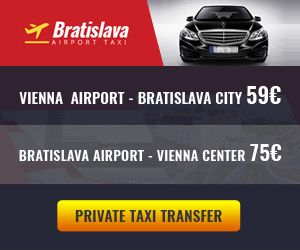 More for you